Property: 1890s Victorian semi-detached, Wokingham town centre
Victorian properties are generous on total floor space and ceiling height, but often the original layout doesn't suit the way we want to live now. We had lived in ours for five years happily before renovating the kitchen. Because previous owners had already added a side return extension, it made the original galley kitchen much wider and more functional than the average galley, so kitchen space to cook and eat in wasn't the issue – it was the gloom created by a typical victorian layout of a run of three rooms from front to back with minimal natural light (front lounge, walk-through middle room used as second lounge, and kitchen/diner at the back looking out on to the garden). This effectively created one long, dark interconnected 15m corridor of rooms, with the only light sources being bay windows at the front, French doors at the back and two small side windows letting in some East-facing light in the morning.
Galley kitchen before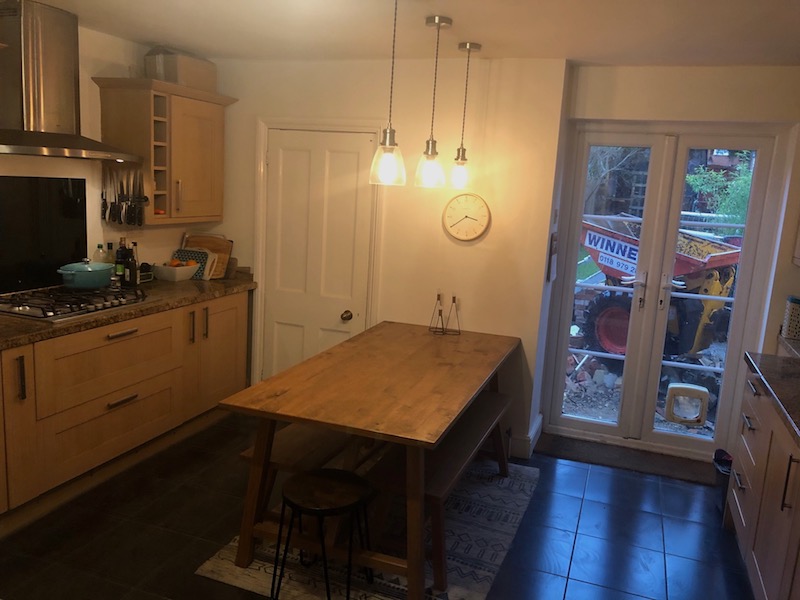 We realised we not only wanted to add space to create a much larger kitchen/diner, but also let in as much natural light as we could, for as long as we could all day. Working with fantastic architects and builders we created a design which added a 3m extension to the back, two much larger windows to the side of the new kitchen (in hindsight this turned out to be one of the most important decisions we made, meaning that light was able to flood in from more than one side of the house and breaking up the 'corridor' feel), as well as a fully glazed roof to the extended area, and large sliding glass doors across the whole of the back wall leading on to the garden.
Re-thinking the interior design
Once we had the new structural design in place, we started looking at kitchen interiors. We knew we wanted to install natural wood flooring to replace the previous dark floor tiles, and opted for an oak herringbone design as a updated contrast to the original wide plank oak floorboards throughout the other ground floor areas, in a similar wood tone. When it came to kitchen design, I had put together Pinterest boards full of beautiful traditional shaker style cabinets in grey, white and navy colour combinations as my starting point, and we used these as the basis of the design when creating 3D images with our kitchen supplier. But when the drawings came back, they just didn't feel right. The style looked good, but the kitchen layout and design didn't give us the feeling of space and light that we had set out to achieve.
Original shaker-style 3D kitchen visualisation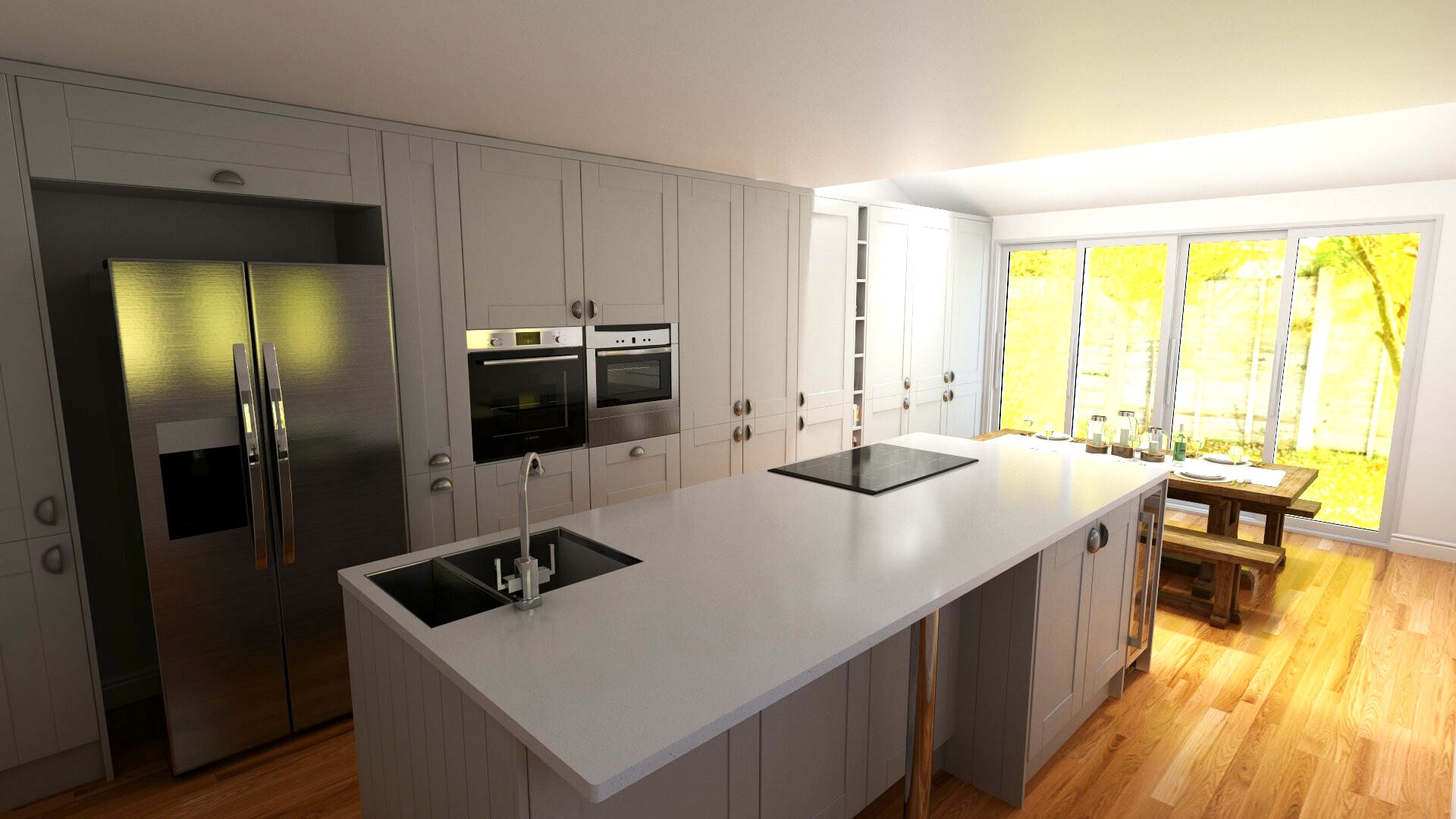 We brought Georgie onboard at this point to give us a different perspective, and her design expertise was invaluable (full disclosure – we didn't work together at the time, we do now!). She pushed us outside of our comfort zone by suggesting we consider a very different kitchen design than the traditional shaker styling I thought our period house needed, helping us to create a bright, modern kitchen with matt white handleless cabinets and white quartz worktop. She also tweaked the layout, moving us away from a larger version of the galley style we had before, with a run of cabinets along the wall and central island and dining table, and instead introducing a peninsula kitchen island/breakfast bar which divided the space into two very separate zones for cooking/eating and a bonus extra lounge area. (We had already decided to create a more formal dining area in our middle room, which had always been underused as a second lounge area, so we didn't need to squeeze a dining table in the new kitchen in the end as our breakfast bar in the new design was long enough to seat four comfortably).
We reworked the cabinet layout to wrap all the cabinets in a large u-shape around the kitchen zone, keeping the lounge zone free of cabinets and clutter. By zoning, clearing floor space in the lounge seating area, and changing our design to matt white handleless cabinetry, Georgie's new design flooded our renovated space with maximum light and brightness. We changed the colour of the window frames to black (they were originally going to be grey to blend with shaker cabinets in muted colours) so that they popped against the white kitchen, and added some more contrast with a matt black boiling water tap and black ceramic hob. The new space feels uncluttered, bright and sleek, and most of all it's filled with light for the whole day. It's a really unexpected modern space to walk into from the much more traditional rooms at the front of the house, but they work so well together. We feel like we're on holiday somewhere sunny every time we walk into our new kitchen, which has been a huge bonus, especially in lockdown.
Jo